Sunday, August 29, 2004
"Today, we send our message"
NEW YORK
(AP) -- Protesters poured into Manhattan's streets by the thousands Sunday to protest the war in Iraq and demonstrate against other Bush administration policies on the eve of the Republican National Convention.
Marchers planned to chart a circular course through the security-laden city to the convention site at Madison Square Garden and then back south again.
"Today, we send our message," said Leslie Cagan, a leader of United for Peace and Justice, which sponsored the march, expected to be the largest demonstration of the convention week. (Special report: America Votes 2004, the Republican convention)
The group had sued to force the city to allow a rally in Central Park -- a bid rejected last week by a state judge. City officials said the event would damage lawns in the park. (Sources: NYPD, protest group agree on rally site)
Unfolding in sweltering heat and humidity, the march followed several days of protests by an array of activist groups, with more than 300 people arrested so far.
"We are the majority of this country. The majority of this country opposes the war," said filmmaker and vocal Bush critic Michael Moore, who addressed thousands of people gathering 10 blocks south of the convention site.
Nearby, spectators poked their heads out of apartment windows along Seventh Avenue. Some demonstrators batted an inflatable, 6-foot globe.
One sign echoed Democrat John Kerry's Vietnam-era remark: "How do you ask a soldier to be the last person to die for a lie?"
The most rancorous demonstration was on Friday, when 264 people were arrested on charges of disorderly conduct in a protest bicycle ride that snaked through the city near the convention site. (Protesters arrested)
Saturday was far calmer, with 25 people arrested in convention-related incidents, bringing the total for the three days to 311, police said.
But the past three days were a mere prelude to demonstrations planned for Sunday.
Besides the march, several other events were planned, including a gay rights demonstration and a vigil in Central Park by a group of September 11 families opposed to the Iraq war.
"I hope we show a strong dissent," said Laura Pessieri, 27, a protester from New Jersey who carried a sign showing Bush alongside the slogan, "An Imminent Threat to Democracy."
The New York Daily News made a pitch for calm on Sunday, publishing a front-page editorial with the headline, "Play Nice."
On the city's subways and regional commuter lines, security was tight and visible, with police making frequent walks through train cars and eyeing passengers up and down.
Mayor Michael Bloomberg, in a radio address Sunday, acknowledged the intense feelings on both sides but said the convention was an important event for New York.
He promised all-out efforts to ensure safety.
"We've put in place a security plan that is thorough, measured, and that protects the rights of convention-goers and protesters without unnecessarily getting in the way of New Yorkers as we go about our daily lives," Bloomberg said.
Sunday, August 22, 2004
Swift boat skipper: Kerry critics wrong
Tribune editor breaks long silence on Kerry record; fought in disputed battle
By Tim Jones
Tribune national correspondent
Published August 21, 2004
The commander of a Navy swift boat who served alongside Democratic presidential candidate John Kerry during the Vietnam War stepped forward Saturday to dispute attacks challenging Kerry's integrity and war record.
William Rood, an editor on the Chicago Tribune's metropolitan desk, said he broke 35 years of silence about the Feb. 28, 1969, mission that resulted in Kerry's receiving a Silver Star because recent portrayals of Kerry's actions published in the best-selling book "Unfit for Command" are wrong and smear the reputations of veterans who served with Kerry.
Rood, who commanded one of three swift boats during that 1969 mission, said Kerry came under rocket and automatic weapons fire from Viet Cong forces and that Kerry devised an aggressive attack strategy that was praised by their superiors. He called allegations that Kerry's accomplishments were "overblown" untrue.
"The critics have taken pains to say they're not trying to cast doubts on the merit of what others did, but their version of events has splashed doubt on all of us. It's gotten harder and harder for those of us who were there to listen to accounts we know to be untrue, especially when they come from people who were not there," Rood said in a 1,700-word first-person account published in Sunday's Tribune.
Rood's recollection of what happened on that day at the southern tip of South Vietnam was backed by key military documents, including his citation for a Bronze Star he earned in the battle and a glowing after-action report written by the Navy captain who commanded his and Kerry's task force, who is now a critic of the Democratic candidate.
Rood's previously untold story and the documents shed new light on a key historical event that has taken center stage in an extraordinary political and media firestorm generated by a group calling itself the Swift Boat Veterans for Truth.
Allegations in the book, co-authored by one of the leaders of the group, accuse Kerry of being a coward who fabricated wartime events and used comrades for his "insatiable appetite for medals." The allegations have fueled a nearly two-week-long TV ad campaign against the Democratic nominee. Talk radio and cable news channels have feasted on the story.
Animosity from some veterans toward Kerry goes back more than 30 years, when Kerry returned from Vietnam to take a leadership role in the anti-war group Vietnam Veterans Against the War. Anger reached a boiling point with Kerry's presidential nomination and his own highlighting of his service during the war, a centerpiece of his campaign strategy against President Bush, who spent the war stateside in the Air National Guard in Texas and Alabama.
Many know of ads
A poll released Friday by the National Annenberg Election Survey reported that more than half the country has heard about or seen TV ads attacking Kerry's war record, a remarkable impact for ads that have appeared in only a handful of states.
Kerry strongly disputes the allegations. Last week he called on the White House to denounce the TV ads and accused Bush of relying on the Vietnam veterans "to do his dirty work." On Thursday, Kerry challenged Bush to a debate on their respective war records. Democrats point to unresolved questions about whether Bush in fact served all the time he was credited with serving in Alabama.
The Bush campaign has denied any association with the Swift Boat Veterans for Truth but so far has refused to condemn the book and the group's TV ads. A report in Friday's New York Times disclosed connections between the anti-Kerry vets and the Bush family, Bush's chief political aide Karl Rove and several high-ranking Texas Republicans. Some of the recent accounts from veterans critical of Kerry have been contradicted by their own earlier statements, the Times reported.
Rood's account also sharply contradicts the version currently put forth by the anti-Kerry veterans. Rood, 61, wrote that Kerry had personally contacted him and other crew members in recent days asking that they go public with their accounts of what happened on that day.
Rood said that, ever since the war, he had "wanted to put it all behind us—the rivers, the ambushes, the killing. … I have refused all requests for interviews about Kerry's service—even those from reporters at the Chicago Tribune."
"I can't pretend those calls [from Kerry] had no effect on me, but that is not why I am writing this," Rood said. "What matters most to me is that this is hurting crewmen who are not public figures and who deserved to be honored for what they did. My intent is to tell the story here and to never again talk publicly about it."
Rood declined requests from a Tribune reporter to be interviewed for this article. Rood wrote that he could testify only to the February 1969 mission and not to any of the other battlefield decorations challenged by Kerry's critics—a Bronze Star and three Purple Hearts—because Rood was not an eyewitness to those engagements.
Ambush scenario
In February 1969, Rood was a lieutenant junior grade commanding PCF-23, one of the three 50-foot aluminum swift boats that carried troops up the Dong Cung, a tributary of the Bay Hap River. Kerry commanded another boat, PCF-94 and Lt. j.g. Donald Droz, who was killed in action six weeks later, commanded PCF-43. Ambushes from Viet Cong fighters were common because the noise from boats, powered by twin diesel engines, practically invited gunfire. Ambushes, Rood said, "were a virtual certainty."
Before this day's mission, though, Kerry, the tactical commander of the mission, discussed with Rood and Droz a change in response to the anticipated ambushes: If possible, turn into the fire once it is identified and attack the ambushers, Rood recalled Kerry saying. The boats followed that new tactic with great success, Rood said, and the mission was highly praised.
In the book "Unfit for Command," Kerry's critics maintained otherwise. The book's authors, John O'Neill and Jerome Corsi, wrote that Kerry's attack on the Viet Cong ambush displayed "stupidity, not courage." The book was published by Regnery, a conservative publisher that has brought into print many books critical of Democratic politicians and policies.
"The only explanation for what Kerry did is the same justification that characterizes his entire short Vietnam adventure: the pursuit of medals and ribbons," wrote Corsi and O'Neill. Later in the war, O'Neill commanded the same Swift boat Kerry had led. O'Neill is now a leader of Swift Boat Veterans for Truth.
In the book, O'Neill and Corsi said Kerry chased down a "young Viet Cong in a loincloth … clutching a grenade launcher which may or may not have been loaded."
Rood recalled the fleeing Viet Cong was "a grown man, dressed in the kind of garb the VC usually wore." There were other attackers as well, he said, and his boat and Kerry's boat took significant fire.
After the attack, the task force commanding officer, then-Capt. Roy Hoffmann, sent a message of congratulations to the three swift boats, saying their charge of the ambushers was a "shining example of completely overwhelming the enemy" and that it "may be the most efficacious [method] of dealing with small numbers of ambushers," Rood said.
In the official after-action message, obtained by the Tribune, Hoffmann wrote that the tactics developed and executed by Kerry, Rood and Droz were "immensely effictive [sic]" and that "this operation did unreparable [sic] damage to the enemy in this area."
"Well done," Hoffmann concluded in his message.
Change of story
But more than three decades later, Hoffmann, now a retired rear admiral, has changed his story. Today he is one of Kerry's most vocal critics, saying the attacks against the ambushers 35 years ago call into question Kerry's judgment and show his tendency to be impulsive.
Rood challenges that criticism, recalling that the direction for the actions they took on the river that day came from the highest ranks of the Navy command in Vietnam.
"What we did on Feb. 28, 1969, was well in line with the tone set by our top commanders," Rood said.
Asked for his response to Rood's account, O'Neill argued that the former swift boat skipper's version of events is not substantially different from what appeared in his book. The account of the Feb. 28 attack draws heavily on reporting from The Boston Globe, O'Neill said.
He said the congratulatory note from Hoffmann was based on the belief that Kerry was under heavy fire from the Viet Cong. But O'Neill claimed that "didn't happen." Had Hoffmann known the true circumstances of events that day, O'Neill said, he would not have issued the congratulatory note. Attempts to reach Hoffmann for comment were unsuccessful.
In his eyewitness account, Rood describes coming under rocket and automatic weapons fire from Viet Cong on the riverbank during two separate ambushes of his boat and Kerry's boat.
Praise for the mission led by Kerry came from Navy commanders who far outranked Hoffmann. Rood won a Bronze Star for his actions on that day. The Bronze Star citation from the late Adm. Elmo Zumwalt, then commander of U.S. Naval Forces, Vietnam, singled out the tactic used by the boats and said the Viet Cong were "caught completely off guard."
Longtime debate
The war about the war between O'Neill and Kerry has raged for more than three decades. O'Neill, who became a lawyer in Houston after returning from Vietnam, was recruited by the Nixon administration in 1971 to serve as a political counterweight to Kerry, who by then had left the military and was a vocal critic of the war.
The two debated the war on the Dick Cavett television show in 1971, with O'Neill accusing Kerry of the "attempted murder of the reputations of 2½ million" Vietnam veterans.
Rood acknowledged in his first-person account that there could always be errors in recollection, especially with the passage of more than three decades. His Bronze Star citation, he said, misidentifies the river where the main action occurred.
That mistake, he said, is a "cautionary note for those trying to piece it all together. There's no final authority on something that happened so long ago—not the documents and not even the strained recollections of those of us who were there.
"But I know that what some people are saying now is wrong," Rood wrote. "While they mean to hurt Kerry, what they're saying impugns others who are not in the public eye."
Copyright © 2004, Chicago Tribune
Thursday, August 19, 2004
Iraqi soccer player says, "for sure" he would be and insurgent if not for soccer
PATRAS, Greece (
Sports Illustrated
) -- Iraqi midfielder Salih Sadir scored a goal here on Wednesday night, setting off a rousing celebration among the 1,500 Iraqi soccer supporters at Pampeloponnisiako Stadium. Though Iraq -- the surprise team of the Olympics -- would lose to Morocco 2-1, it hardly mattered as the Iraqis won Group D with a 2-1 record and now face Australia in the quarterfinals on Sunday.
Afterward, Sadir had a message for U.S. president George W. Bush, who is using the Iraqi Olympic team in his latest re-election campaign advertisements.
In those spots, the flags of Iraq and Afghanistan appear as a narrator says, "At this Olympics there will be two more free nations -- and two fewer terrorist regimes."
(To see the ad, click here.)
"Iraq as a team does not want Mr. Bush to use us for the presidential campaign," Sadir told SI.com through a translator, speaking calmly and directly. "He can find another way to advertise himself."
Ahmed Manajid, who played as a midfielder on Wednesday, had an even stronger response when asked about Bush's TV advertisement. "How will he meet his god having slaughtered so many men and women?" Manajid told me. "He has committed so many crimes."
"The ad simply talks about President Bush's optimism and how democracy has triumphed over terror," said Scott Stanzel, a spokesperson for Bush's campaign. "Twenty-five million people in Iraq are free as a result of the actions of the coalition."
To a man, members of the Iraqi Olympic delegation say they are glad that former Olympic committee head Uday Hussein, who was responsible for the serial torture of Iraqi athletes and was killed four months after the U.S.-led coalition invaded Iraq in March 2003, is no longer in power.
But they also find it offensive that Bush is using Iraq for his own gain when they do not support his administration's actions. "My problems are not with the American people," says Iraqi soccer coach Adnan Hamad. "They are with what America has done in Iraq: destroy everything. The American army has killed so many people in Iraq. What is freedom when I go to the [national] stadium and there are shootings on the road?"
At a speech in Beaverton, Ore., last Friday, Bush attached himself to the Iraqi soccer team after its opening-game upset of Portugal. "The image of the Iraqi soccer team playing in this Olympics, it's fantastic, isn't it?" Bush said. "It wouldn't have been free if the United States had not acted."
Sadir, Wednesday's goal-scorer, used to be the star player for the professional soccer team in Najaf. In the city in which 20,000 fans used to fill the stadium and chant Sadir's name, U.S. and Iraqi forces have battled loyalists to rebel cleric Moktada al-Sadr for the past two weeks. Najaf lies in ruins.
"I want the violence and the war to go away from the city," says Sadir, 21. "We don't wish for the presence of Americans in our country. We want them to go away."
Manajid, 22, who nearly scored his own goal with a driven header on Wednesday, hails from the city of Fallujah. He says coalition forces killed Manajid's cousin, Omar Jabbar al-Aziz, who was fighting as an insurgent, and several of his friends. In fact, Manajid says, if he were not playing soccer he would "for sure" be fighting as part of the resistance.
"I want to defend my home. If a stranger invades America and the people resist, does that mean they are terrorists?" Manajid says. "Everyone [in Fallujah] has been labeled a terrorist. These are all lies. Fallujah people are some of the best people in Iraq."
Everyone agrees that Iraq's soccer team is one of the Olympics' most remarkable stories. If the Iraqis beat Australia on Saturday -- which is entirely possible, given their performance so far -- they would reach the semifinals. Three of the four semifinalists will earn medals, a prospect that seemed unthinkable for Iraq before this tournament.
When the Games are over, though, Coach Hamad says, they will have to return home to a place where they fear walking the streets. "The war is not secure," says Hamad, 43. "Many people hate America now. The Americans have lost many people around the world--and that is what is happening in America also."
Wednesday, August 18, 2004
Retiring GOP congressman breaks ranks on Iraq


From Ted Barrett
CNN Washington Bureau
Wednesday, August 18, 2004 Posted: 8:11 PM EDT (0011 GMT)

WASHINGTON (CNN) -- Breaking ranks with his party and reversing his earlier stance, a senior retiring Republican lawmaker said Wednesday the military strike against Iraq was "a mistake," and he blasted a "massive failure" of intelligence before the war.

The unexpected four-page statement came from Rep. Doug Bereuter of Nebraska, who until earlier this month was the vice chairman of the House Intelligence Committee -- a panel that reviewed much of the evidence the administration cited before going to war.

"I've reached the conclusion, retrospectively, now that the inadequate intelligence and faulty conclusions are being revealed, that all things being considered, it was a mistake to launch that military action, especially without a broad and engaged international coalition," Bereuter wrote in a four-page letter to his constituents.

"The cost in casualties is already large and growing, and the immediate and long-term financial costs are incredible."

Bereuter was particularly critical of the pre-war intelligence, which described an arsenal of weapons of mass destruction in Iraq. But no such weapons have been found since the U.S.-led invasion.

Bereuter voted in support of an October 2002 resolution authorizing the use of force in Iraq, but he said that vote was based on what he had been told about the WMD threat from Iraq.

"Left unresolved for now is whether intelligence was intentionally misconstrued to justify military action," Bereuter said.

After 26 years on Capitol Hill, Bereuter is retiring next month, and will become the president of Asia Foundation.

Congressional Republicans were surprised and angry at Bereuter's comments.

Rep. Ray LaHood, R-Illinois, a member of the intelligence committee, described Bereuter as "very bitter" for having been passed over in recent years to head both the intelligence and international relations committees. He suggested Bereuter's comments were a parting shot to House GOP leaders and President Bush.

An aide denied Bereuter was motivated to write the letter because he didn't get the appointments.

Rep. James Gibbons, R-Nevada, who is also on the intelligence panel, said Bereuter's new conclusions are wrong.

"The facts don't change. Iraq was a dangerous place," Gibbons said. "Mr. Bereuter is entitled to his opinion."

Bush officials tired to downplay the congressman's statement.

"He is not an opinion maker or someone who has taken a leadership role. I don't think you can take this as a sign his comments are a barometer of other Republican thinking," one Bush political aide said.

Bereuter's critique of the administration on Iraq was sharp.

He said the administration was wrong to disband the Iraqi army -- because so many of its members joined forces with the insurgents -- and was wrong to rely on the Defense Department instead of the State Department to spearhead reconstruction and the interim government.

He also said the administration was wrong to ignore military leaders who warned many more troops would be needed in Iraq to maintain the postwar peace.

"Now we are immersed in a dangerous, costly mess and there is no easy and quick way to end our responsibilities in Iraq without creating bigger future problems in the region and, in general, in the Muslim world," Bereuter said.

There was no reaction from the White House to Bereuter's charges.

Bereuter said it was important for both the executive and legislative branches of government to learn from the "errors and failures" relating to the war in Iraq and its aftermath.



Monday, August 16, 2004
electoral update Kerry 327 Bush 211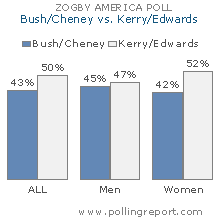 >
Friday, August 06, 2004
Veteran Backs Off Attack on Kerry's War Record


BOSTON (Reuters) - John Kerry's commanding officer in Vietnam has backed away from attacks on the Democratic presidential candidate, saying he made a mistake in accusing the U.S. senator of having lied about his wartime record.

George Elliott, who was one of Kerry's superiors in Vietnam when he was awarded medals for heroic actions, had signed an affidavit suggesting Kerry did not deserve the Silver Star.

In the document, Elliott said, "I was never informed that he had simply shot a wounded, fleeing Viet Cong in the back."

But in Friday's Boston Globe, Elliott said: "It was a terrible mistake probably for me to sign the affidavit with those words. I'm the one in trouble here."


Elliott told the newspaper he thinks Kerry did deserve the medal.


"I still don't think he (Kerry) shot the guy in the back," Elliott is quoted as saying in the Globe.


Kerry used his nominating convention in Boston in July to paint himself as a decorated war hero capable of leading the nation in troubled times and a man better qualified to be commander-in-chief than President Bush.


But Elliott and other members of a group called Swift Boat Veterans for Truth, oppose Kerry.


This week they launched a television advertisement accusing the Democrat of having lied about his service in Vietnam and hurting other veterans by criticizing the war after returning home. Next week the group will publish a book, "Unfit for Command: Swift Boat Veterans Speak Out Against John Kerry."


Elliott was not immediately available for comment.


Kerry, arguing his combat experience in Vietnam qualifies him as a strong leader on national security issues, has surrounded himself with other veterans who have said the candidate did heroic deeds to save his own crew mates.


The new attacks on Kerry sparked an angry response from Republican Sen. John McCain, also a Vietnam veteran, who called the attack dishonorable and dishonest and urged the Bush administration to also denounce the ad.


The administration distanced itself from the advertisement on Thursday but did not condemn it.


"We have not and we will not question Sen. Kerry's service in Vietnam," said White House spokesman Scott McClellan.


Bush insists his administration seeking 'new ways to harm our country'

WASHINGTON (AP) - President George W. Bush offered up a new entry for his catalogue of "Bushisms" on Thursday, declaring that his administration will "never stop thinking about new ways to harm our country and our people."

Bush misspoke as he delivered a speech at the signing ceremony for a $417-billion defence spending bill.

"Our enemies are innovative and resourceful, and so are we," Bush said. "They never stop thinking about new ways to harm our country and our people, and neither do we."

No one in Bush's audience of military brass or Pentagon chiefs reacted.


Thursday, August 05, 2004
McCain condemns anti-Kerry ad

By RON FOURNIER, AP Political Writer

WASHINGTON (August 5, 1:03 pm PDT) - Republican Sen. John McCain, a former prisoner of war in Vietnam, called an ad criticizing John Kerry's military service "dishonest and dishonorable" and urged the White House on Thursday to condemn it as well.

The White House declined.

"It was the same kind of deal that was pulled on me," McCain said in an interview with The Associated Press, comparing the anti-Kerry ad to tactics in his bitter Republican primary fight with President Bush.

The 60-second ad features Vietnam veterans who accuse the Democratic presidential nominee of lying about his decorated Vietnam War record and betraying his fellow veterans by later opposing the conflict.

"When the chips were down, you could not count on John Kerry," one of the veterans, Larry Thurlow, says in the ad. Thurlow didn't serve on Kerry's swiftboat, but says he witnessed the events that led to Kerry winning a Bronze Star and the last of his three Purple Hearts. Kerry's crewmates support the candidate and call him a hero.

The ad, scheduled to air in a few markets in Ohio, West Virginia and Wisconsin, was produced by Stevens, Reed, Curcio and Potham, the same team that produced McCain's ads in 2000.

"I wish they hadn't done it," McCain said of his former advisers. "I don't know if they knew all the facts."

Asked if the White House knew about the ad or helped find financing for it, McCain said, "I hope not, but I don't know. But I think the Bush campaign should specifically condemn the ad."

McCain, chairman of Bush's campaign in Arizona, later said the Bush campaign has denied any involvement and added, "I can't believe the president would pull such a cheap stunt."

White House spokesman Scott McClellan declined to condemn the ad. He did denounce the proliferation of spending by independent groups, such as the anti-Kerry veterans organization, that are playing on both sides of the political fence.

"The president thought he got rid of this unregulated soft money when he signed the bipartisan campaign finance reform into law," McClellan said. A chief sponsor of that bill, which Bush initially opposed, was McCain.

In 2000, Bush's supporters sponsored a rumor campaign against McCain in the South Carolina primary, helping Bush win the primary and the nomination. McCain's supporters have never forgiven the Bush team.

McCain said that's all in the past to him, but he's speaking out against the anti-Kerry ad because "it reopens all the old wounds of the Vietnam War, which I spent the last 35 years trying to heal."

"I deplore this kind of politics," McCain said. "I think the ad is dishonest and dishonorable. As it is, none of these individuals served on the boat (Kerry) commanded. Many of his crew have testified to his courage under fire. I think John Kerry served honorably in Vietnam. I think George Bush served honorably in the Texas Air National Guard during the Vietnam War."

Retired Adm. Roy Hoffmann, head of the Swift Boat group, said they respected McCain's "right to express his opinion and we hope he extends to us the same respect and courtesy, particularly since we served with John Kerry, we knew him well and Sen. McCain did not."

McCain himself spent more than five years in a Vietnam prisoner of war camp. A bona fide war hero, McCain, like Kerry, used his war record as the foundation of his presidential campaign.

The Kerry campaign has denounced the Swift Boat Veterans for Truth, saying none of the men in the ad served on the boat that Kerry commanded. Three veterans on Kerry's boat that day - Jim Rassmann, who says Kerry saved his life, Gene Thorson and Del Sandusky, the driver on Kerry's boat, said the group was lying.

They say Kerry was injured, and Rassmann called the group's account "pure fabrication."

The general counsel for the Kerry campaign and the Democratic National Committee sent television stations a letter asking them not to run the ad because it is "an inflammatory, outrageous lie" by people purporting to have served with Kerry.

Hoffmann said none of the 13 veterans in the commercial served on Kerry's boat but rather were in other swiftboats within 50 yards of Kerry's. The group claims that there was no gunfire on the day Kerry pulled Rassmann from a muddy river in the Mekong Delta and that Kerry's arm was not wounded, as he has claimed.


Monday, August 02, 2004
Democrats vs. the GOP: Do the Math
Michael Kinsley of the
LA times
August 1, 2004
You know how sometimes, when it's really, really hot, you get this urge to crank up the old spreadsheet, download a bunch of numbers from the Web and start crunching away like there's no next fiscal year?
Me neither. But I did spend a bit of the past week watching the Democratic convention on TV, and I needed something to exercise my mind while that was going on. Convention season is the one time every four years when we pretend that political parties matter. In general, we have accepted the reality that campaigns for national office have become entrepreneurial, united more by shared political consultants than by old-fashioned parties.
So I thought I'd see if there was a difference between the parties that transcended the differences between the candidates. Is one of them, for example, a better steward of the economy? One year won't tell you much, or even one administration. But surely differences will emerge over half a century or so, if they exist.
With that thought, I headed for the Web. Specifically, I went to the charts attached to the President's Economic Report, released in February. There, I downloaded like a madman and then distilled the mess into a few key stats.
The figures I'm using are from 43 years, 1960 through 2002. I didn't choose the years in order to skew the results; these are the years that were available for the categories I wanted to include.
The results are pretty interesting. Maybe presidents have little power over the economy. And we know that they must fight with Congress over the budget. Still, elections are based on the premise that who you vote for does matter. So let's at least entertain that assumption for a few minutes.
It turns out that Democratic presidents have a much better record than Republicans. They win in a head-to-head comparison in almost every category. Real growth averaged 4.09% in Democratic years, 2.75% in Republican years. Unemployment was 6.44%, on average, under Republican presidents, and 5.33% under Democrats. The federal government spent more under Republicans than Democrats (20.87% of GDP, compared with 19.58%), and that remains true even if you exclude defense (13.76% for the Democrats, 14.97% for the Republicans).
What else? Inflation was lower under Democratic presidents (3.81% on average, compared with 4.85%). And annual deficits took more than twice as much of GDP under Republicans than Democrats (2.74% of GDP versus 1.21%). Republicans won by a nose on government revenue (i.e., taxes), taking 18.12% of GDP, compared with 18.39%. That, of course, is why they lost on the size of the deficit.
Personal income per capita was also a bit higher in Republican years ($16,061 in year- 2000 dollars) than in Democratic ones ($15,565). But that is because more of the Republican years came later, when the country was more prosperous already.
There will be many objections to all this, some of them valid. For example, a president can't fairly be held responsible for the economy from the day he takes office. So let's give them all a year. That is, let's allocate each year to the party that controlled the White House the year before. Guess what? The numbers change, but the bottom-line tally is exactly the same: higher growth, lower unemployment, lower government spending, lower inflation and so on under the Democrats. Lower taxes under the Republicans.
But maybe we are taking too long a view. The Republican Party considers itself born again in 1981, when Ronald Reagan became president. That's when Republicans got serious about cutting taxes, reducing the size of government and making the country prosperous. Allegedly. But doing all the same calculations for the years 1982 through 2002, and giving each president's policies a year to take effect, changes only one result: The Democrats pull ahead of the Republicans on per capita personal income.
As they say in the brokerage ads, past results are no guarantee of future performance.